25.05.2020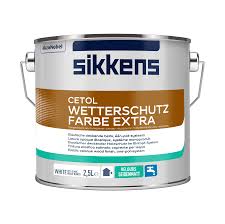 In the world of painting there is no longer any need to present the product Sikkens Cetol WetterschutzFarbe , a perfect product for all wooden facades!
This magnificent product has undergone an excellent update, its new name? Cetol Wetterschutz Extra
What's new in this product ?!
No more Cetol WetterschutzFarbe Isoliergrund product! And no :-) the product becomes 2-1!
All the qualities of Wetterschutzfarbe isoliergund and Wetterschutzfarbe are combined in one single pot!
Wetterschutzfarbe Extra is not only insulating against tannin stains but also rustproof !
Simpler for painters, but also for individuals, this creates real progress in all-in-one products. Once again with Sikkens, simplicity does not come at the expense of quality.
In summary, all the important features of this product:     
- Practical system with 2 layers and 1 pot to save time
- Two layers are enough
- Directly on wood without primer
- Provides wooden surfaces very weatherproof, permanently beautiful and clean
- Preventive protection film against algae and fungal attacks
- Reduces the penetration of wood components; improved insulation effect on nodes.
- Rust-proof, no more rust stains on your facades because of nails or screws.